On February 2nd 1994, a timid ten year old Colleen Shepherd enlisted into the Young Marines to take on a challenge that would have changed her life. In the beginning with the earning of her first rank and ribbon, Private First Class and Basic ribbon. Shepherd quickly realized she'd made the right decision by proving to everyone that she might have been the only female currently in the Quantico unit,she didn't let it interfere with her objection of succeeding and keeping up with the boys.

In July of 1994 she earned the spot to travel to Camp Pendleton,California for a true National Encampment, where all states with Young Marines units went to one facility. And so it started the forming of the "devil dog" embracing the program and it's values.

While in the beginning Shepherd continuously scoring the average P.T. score of 414 points. 7 1/2 years later Shepherd have earned one bronzed medal, four silver medals, seven gold medals, junior and senior overall high score

plaques and placed first and second in the Marine Corps Fitness Challenge

held in Frederick, MD. In receiving the junior plaque Shepherd attained a personal best of 499 points out of 500.

Though numerous classes,drills, and encampments Shepherd earned ribbons, rank, and respect. For many Young Marines it was tough to have a female Sergeant taking charge. One thing Shepherd never lack was was perseverance.

As Shepherd obtain her S/Sgt. rank,she already acquired 20 ribbons, including 3rd degree lifesaving, along with 6 devices, in two years.Shepherd didn't have know that she was leading herself right into a place with her hard work with determination she would become along one day among the top Young Marines in the Nation.

Meritoriously promoted to the rank of First Sergeant Shepherd was a pro at running the Cumberland, MD encampment, which also included marching some 400 Young Marines though a Pass and Review.1st. Sergeant Shepherd was awarded with an Honor Young Marines plaque for her excellent leadership.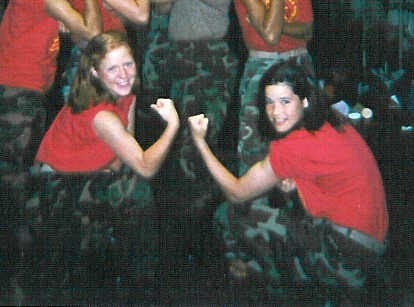 1998 at Parris Island, Senior Leadership, Shepherd passed her initial strength test , IST with the highest female score, and was the only female to run the mile. And 3rd Battalion obstacle course for time against the males, and was in the top five percent of the oral board examines. With her outstanding performance on the oral board and course. They called her back for an 2nd review, Shepherd pass both with flying colors. However the board decided to hold back on her meritoriously promoting her to Sergeant Major for time in grade reasons.
Ribbon week at the Pentagon in October of 1998 brought Shepherd to the Young Marines booth to represent the Young Marines program. Unbeknown to Shepherd herself that the National Director at that time of period Mr. James B. Parker and Under Secretary of Defense, John Hamre, CO-planned to meritoriously promote Shepherd to the rank of Sergeant Major. During her time there she met the 31st Commandant of the Marine Corps, General Krulak, who coined her after numerous photos were taken and laugh over with now Sergeant Major Shepherd who had more ribbons,he or she.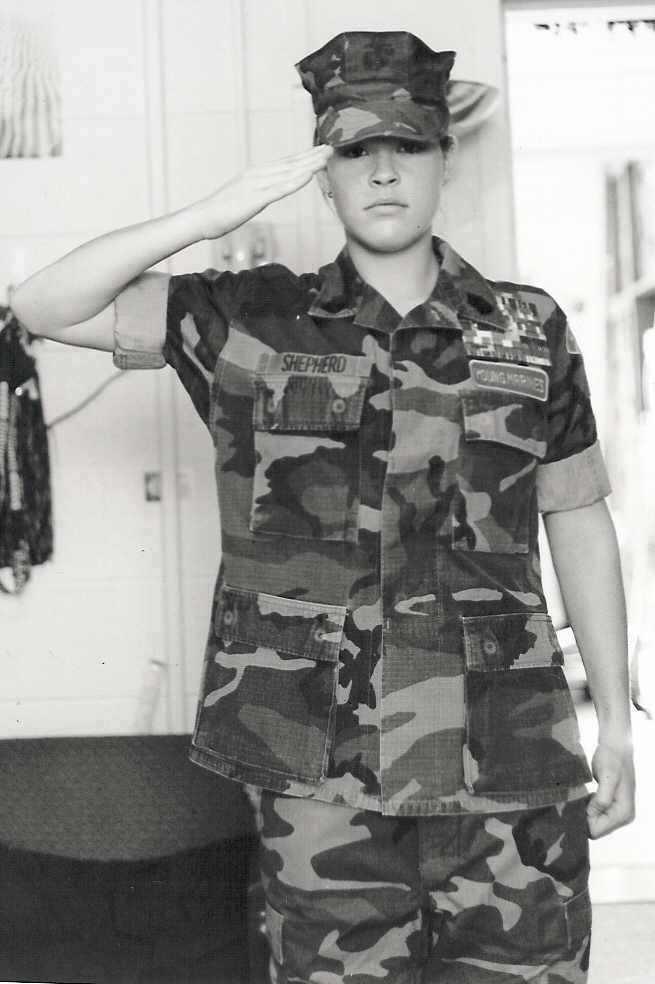 In the winter of that year of 1998, Quantico Young Marines chose Sgt/Major Shepherd as their Young Marine of the Year nominee,Which lead to becoming the Young Marine of the Year for the state of Virginia .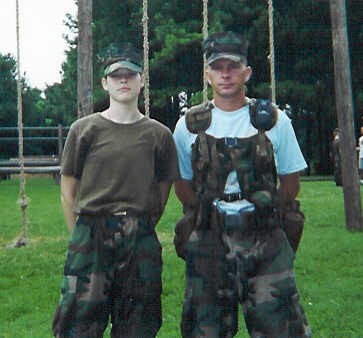 August of 1999, SgtMaj. Shepherd encountered the hardest, most grueling ,training period in one's youth life as while as being a Young Marine .When she attended Scuba school 1-99, a time and school she'll never forgotten, with the countless qualifications to pass and obstacles to overcome including a timed 2 mile beach run directly followed by timed 150 yard ocean swim, as well of knowledge to process. As stated by the Master Scuba Diver Instructor Worth C. O'Brien,"Colleen Shepherd's leadership ability was tested but never tarnished during intense mental and physical rigors of training".SgtMaj. Shepherd was awarded the Personal Achievement award for meritorious serivce.
As with no ability to achieve the rank of Warrant Officer.SgtMaj Shepherd set forth to improve upon herself anyway possible. As she strive to attain ribbons such as advanced field and the Senator John H, Chaffee Conservation award. She also became a member to the Young Marines Talk-list run by Mrs. Clemente whom is the Commanding Officer of Vienna Ohio Young Marines ,her emails have been remarkable as "impressive" and beyound her years".
SgtMaj. Shepherd movivates,mentors, and expresses positive mental attitude and enthusiasm through the talk-list and in person. As Many been motivated by her history and success as a Young Marine.
A Commanding Officer once wrote that a 16 year old female was losing interest inside of the program and ready to quit..Until she had that day she met SgtMaj. Shepherd all that change with that female Young Marine while they met at a regional encampment who brought a new light to the Young Marine and revitalized her whole different out look of the Young Marines and with her positive mentoring that 16 yr. old Young Marine changed her whole ideal of quitting and stiving to her best of abilities to also achieve in the Young Marines.
September of 2000, SgtMaj. Shepherd traveled to South Korea as one of the 15 Young Marines chosen to represent the Young Marines Program at the 15th anniversary of the Korean War. This trip also served as an international exchanged with the Republic of the Korea Marine Scouts.
Today, SgtMaj. Shepherd has transformed into an outstanding Young Marine who has distinguished herself throughout her career.By becoming the first female Young Marine to ever become award the highest National Young Marine Distinguished Service Ribbon August 17,2001 and the fourth person to receive it in the entire history of the Young Marines program.
SgtMaj.Shepherd is walking example for all female Young Marines that nothing is impossible if you put your all best abilities to strive forward, by leading of the 14 leadership traits,she incorporated them into her everyday life for the past 8 years of service with the Young Marines and continue to do so into the future. Coming to the end of her duties as being a Young Marine SgtMaj. Shepherd embark on one and the last adventure as a Young Marine she went to Alaska there she aided in restoring a devastated quarry pit that will serve as rearing pond for salmon.
In unparalleled performce of her duties as a Young Marine,SgtMaj.Shepherd has never disgraced credit upon her God, country, and it's flag, her parents, herself, and the Young Marines.
Formerly knowing SgtMaj. Colleen Sheppard is now attending Ohio University with a physiology major and planning to join the U.S. Marine Corps..
Awards/Decorations
1) Basic
2) Organized unit trip with 2 silver and 2 bronze stars
3) Battalion Encampment with 4 bronze stars
4) Regimental Encampment with 2 bronze stars
5) Division Encampment with 3 bronze stars
6) National Encampment with 1 bronze star
7) Drill Team with with bronze drill team bar
8) Drill Team Competition with 1 silver "D" and 2 bronzed stars
9) Communication
10) Qualified Field with one 1 silver "T"
11) Advanced Field
12) Scuba
13) Musicians
14) Sportsmanship with 2 bronze stars
15) Swimming with one gold "L"
16) Qualified Corpsmen
17) Achievement ribbon with gold crossed quills, gold crossed pistols, gold castle, and gold Eagle,Globe, and Anchor.
18) Physical Fitness with 2 bronze stars
19) Platoon Leader Course with 2 bronze stars
20) C.P.R
21) Community Service with 1 bronze and gold palm
22) Senator John H. Chaffee Conservation with gold palm
23) Academic Achievement with 1 gold lamp and 4 bronze stars
24) Attendance with 2 bronze stars
25) Color guard with gold color guard bar
26) Young Marine Instructor with 1 bronze star
27) Young Marine 1st. Sergeant
28) National Staff
29) Good Conduct with 2 bronze stars
30) Marine Corps League Commendation
31) Meritorious Unit Citation/ National with 1 bronze star
32) Commendation of Merit with 1 silver star palm
33) Young Marine of the Year - Virginia
34) Personal Achievement with 1 gold palm
35) Lifesaving 3rd Degree
36) Seamenship
37) Leadership with "1" bronze star